Greetings to all
I was immersed in medical examination, treatments and in the study of inherited retinal degeneration at the Department of ophthalmology of Tohoku University hospital. I opened the Yuko WADA Eye Clinic in Sendai city on April 3, 2007. The purpose of having my own eye clinic is to offer medical care (which I learned at Tohoku University and Harvard medical school) at the distance which suited my patients.
In addition to the ophthalmologic general practice and laser treatment, we have a special outpatient department for inherited retinal degeneration (retinitis pigmentosa, macular degeneration, etc) which I studied for 12 years.
The special department was not only fully equipped with ophthalmic instruments for patients with inherited retinal degeneration but also introduced a near infrared radiation treatment. I will make an effort as hard as possible to elucidate the cause of retinal degeneration and develop the effective treatment for patients with inherited retinal degeneration.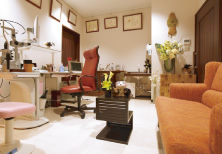 Another characteristic of my clinic is that it has a women's outpatient department on Tuesday morning. We also perform consultation for contact lens's and health screening for your eyes. All the staff have the philosophy "polite and gentle" and aim not only to provide medical care, but also to understand each patient.

Name: Yuko Wada, M.D.
Office Address: Yuko WADA EYE CLINIC
1-4-28-F3, Kamisugi, Aoba-ku, Sendai,
Miyagi 980-0011, Japan
Tel: 81-22-395-7100

President of Yuko WADA EYE CLINIC; April 2007-present

Member of the Research Committee on Chorioretinal Degenerations and Optic Atrophy, the Ministry of Health, Labour and Welfare of the Japanese Government April 2005-March 2007
Studied at Harvard University(Schepens Retina Associates);2004
COE member ; February 2003
Lecturer in Ophthalmology, Tohoku University School of Medicine; October 2003 - March 2007
Overseas research worker (the Ministry of Education, Culture, Sports, Science and Technology) at Harvard University; July 2002 - January 2003
Faculty in Ophthalmology Tohoku University School of Medicine; May 1998 - September 2003
Clinical and Research Fellow in Ophthalmology, Tohoku University School of Medicine; Feburary1998 - April 1998
Staff in Ophthalmology; Public Katta Hospital October 1995 - February 1998
Clinical and Research Fellow in Ophthalmology
Tohoku University School of Medicine; April 1994 - September 1998
Resident in Ophthalmology
Sendai National Hospital April 1993 - March 1994
Resident in Ophthalmology
Tohoku University School of Medicine; April 1992 - March 1993
Medical Education
Akita University School of Medicine; April 1987 - March 1992

Doctorate Degree of Medical Science
Tohoku University March 1999
Board Certified Ophthalmologist; September 1998
Doctor of Medicine (M.D.)
Tohoku University School of Medicine; March 1992

Japanese Society of Ophthalmology
Japan Ophthalmologists Association
The Association for Research in Vision and Ophthalmology
Japanese Society for Clinical Electrophysiology of Vision
Japanese Retina and Vitreous Society